A ductless system is a green solution to heating and cooling any room in your building. Get a FREE estimate for installations today.
You'll be green by having a ductless heating and cooling system installed by us. With the press of a button you can control the comfort of the room without affecting the comfort of the whole building. You'll save money with our systems.
Getting your ductless system set up is much less painful than the invasive duct systems of traditional air conditioners. A unit will be installed in every room of your home or business,depending on the layout, so you can control which rooms are heated or cooled.
Ductless benefits
• Energy efficient
• Quiet
• Heat and cool any room
• Can supplement current systems
• Easy installation
• Tax credits and incentives
• FREE ESTIMATES for installation
• Residential or commercial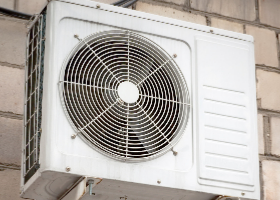 Go ductless today
The installation is easy with a ductless system. We will install an outdoor unit and an indoor unit in every room, depending on the layout of your home. The indoor units will be connected to the outdoor one by a small 3″ opening.
The units work in a similar way to a central unit but without the ductwork. Instead, you have a unit in each room, depending on the layout of your home that you can control individually. This gives you more control of which rooms you're heating or cooling.